VPR's "Brave Little State" Features Local Businesses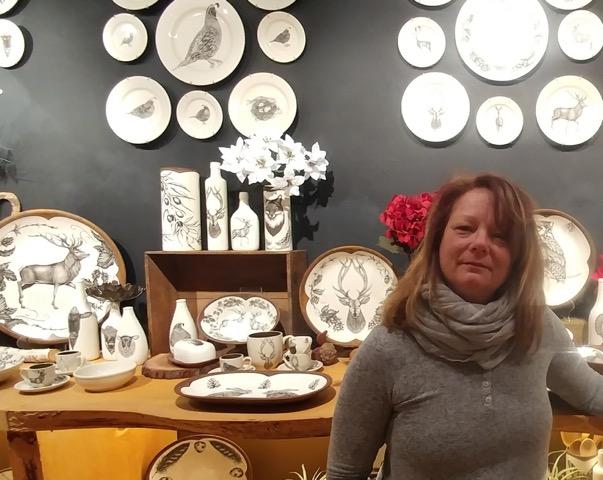 Brattleboro's Laura Zindel, founder of Laura Zindel Designs, was interviewed for Vermont Public Radio's series "Brave Little State". Laura offered some important advice for small business people and creatives, and gave a special shout out to the Brattleboro Development Credit Corporation for help with business planning and providing a great space where her business could grow. To hear or read this segment and the entire VPR piece on small businesses, please visit http://digital.vpr.net/post/what-does-it-take-start-and-run-successful-small-business-vermont#stream/0 
What Does It Take To Start And Run A Successful Small Business In Vermont?
by ANGELA EVANCIE & AMY KOLB NOYES • DEC 7, 2018
Vermont Public Radio / digital.vpr.net
So, what about Vermont's creative economy? To close out this episode, we ask how you can make a living as an artist.
"The first thing people said was, 'Well, you don't think you're gonna just come here and get a job, right? You have to, like, bring your job with you.' So that's what we were doing — and I think you have to be ready to make it up as you go along," says Laura Zindel.
She and her husband, Thorsten Lauterbach, moved to Brattleboro in 2004 with a ceramics company that Laura had started in San Francisco: Laura Zindel Design.
"It started out in my house — we have an old farmhouse. My husband renovated the haybarn, and that's where we used to work out of," Laura says.
Fast forward to today, when the company operates out of a 9,000-square-foot factory in a Brattleboro business park.
Laura gives Brave Little State an after-hours tour of the space where she and her husband now employ seven people full time, fabricating the plates and platters and other housewares that are printed with Laura's distinctive drawings.
It's a complicated process, with different spaces devoted to fabrication, firing, hand-glazing and staging of the many pieces waiting to be decorated with silk-screen enamel transfers of Laura's drawings.
"We make everything to order," Laura says. "So when somebody orders a piece, that's when we decorate it."
Laura started out with detailed drawings of bugs, but now her portfolio includes all manner of creatures and plants. A work bench with printed mugs shows quails, sheep, owls, fox and penguins.
These hip designs seem destined for Instagram, which Laura loves — but she got her biggest breaks before social media even existed. Early on her work got picked up by stores in New York City — Barneys and ABC Carpet & Home. Her wholesale accounts have grown from 50 stores to 350 stores. Then there's retail online and in the showroom.
"And we have a lot of local people who support us," she says. "But our wholesale is really the biggest component of our business."
Laura has a master's degree in ceramics, not an MBA. So when it comes to a lot of the business administration, she outsources.
"I don't know a lot of artists who love to do math — that was definitely me. So instead of just sort of sitting with a box of receipts and crying over them, I decided it's really worth the money to hire somebody to do the things that took me double-time to do," she says. "For instance, getting an accountant and a bookkeeper. I have a business adviser, who I think is almost more my therapist."
So this is Laura's tip number one: "I would definitely advise people to not try to do the things that they're not good at. Save their energy for the things that they are good at."
Tip number two: Take advantage of local resources. Like Todd Heyman at Fat Sheep Farm, Laura says she didn't know there was so much help out there.
"What I would tell people is to find out immediately what your resources are around you," she says. "I mean, I didn't know about the Brattleboro Development Corporation."
The Brattleboro Development Credit Corporation is what helped Laura get into this factory space. A friend of hers was on the board and told her to call them up.
"I got on the phone the next day," she remembers. "It's a free service, so they had an architect work with me, they had a business adviser work with me, somebody who helped me make my first business plan — even though we'd been in business for many years — and then developed this whole idea of what this space would look like, and then through loans from the state they built it out, and we signed the lease. So here we are today."
And tip number three is a winner: Be a good boss.
"I think the culture where you work is really important. And so I like to remind myself that I'm the leader and not the boss. And that helps me sort of process how I approach having employees," Laura says. "A lot of the people who work for me, this is their first sort of 40-hour-a-week job that they've had, and we have to teach each other how that works."
Laura may be well-established at this point, but she's still learning things, too. Lately she's been thinking a lot about work-life balance.
"People are like, 'Oh, it must be so fun and creative,' and all I do is create all day, but the reality is that my drawings are often done at the kitchen table really late at night when everyone's gone to bed," she confesses.
She's got to carve out time for the art that defines her company. And she's also trying to work a little less.
"I actually belong to this business group of small-business owners in Brattleboro, and I find that every time I go there I feel better, even though we all have problems that we want to talk about," Laura says. "And one of the biggest ones lately has been, how do you take a vacation? How do you leave your business, and be able to really leave it for a good amount of time?"
Of course too much work is a good problem to have when you're a small business — but burnout is real. And finding support in the community is something that our question-asker Luke has learned about, too.
"One thing that's become really clear is that what kind of initially might strike people as a challenge, you know — we're in a small state, there's only so many customers for your business … But it has actually turned out to be an advantage, because people are so supportive," Luke says.
Luke says this isn't something he experienced when he worked in other states.
"And so, not being afraid, I think, to lean on the community, because I think by and large, Vermonters hang together, and really want to see everyone around them succeed," he says. "And so they're willing to pitch in, and help, or point people in the right direction. But you just have to ask."
To hear or read this segment and the entire VPR piece on small businesses, please visit http://digital.vpr.net/post/what-does-it-take-start-and-run-successful-small-business-vermont#stream/0